March 2019 | Women's History Month Edition
The stories this month moved us beyond words and speak deeply to the courage, perseverance, and grit it takes to be a woman in this world. Sometimes it is simply sheer force of will that keeps you moving forward. Other times it is community. And mostly it is family. Each of those you will find here.

Featured artists this month are: Sarah Jackson, SK, Laura Peniche, Nechama F. Sammet Moring, Laura Soto, Nga Vuong-Sandoval, and Jeanette Vizguerra. We are indebted to them for sharing their words and space with all of us.

For April, we are seeking submissions of Faith.

With Passover and Easter happening towards the end of the month and Ramadan coming quickly at the start of May, we are carving space for voices focused on sharing the beauty and light of their faith. If you have a story you'd like to share please connect. We are encouraging submissions across ALL faiths.

Also, a quick reminder - and huge shout out - that we are launching the online leg of our Beyond the (Funding) Wall fundraiser on April 11th. If you care about the narrative currently being written about immigrants and refugees in our country then you should absolutely care about this.

Watch the trailer. Read the information. Mark the date.

Give.

Together we will tell a new story.

Yours in Voice & Verse,


Kaye Taavialma & Jessica Schneider


"Those who tell the stories rule the world."
- Hopi American Indian proverb
Sarah Jackson started Casa de Paz, a hospitality home close to the immigrant detention center in Aurora, Colorado. Their mission is to reunite families separated by immigrant detention, one simple act of love at a time.
Lorna's Son
Sarah Jackson
A few weeks ago our incredibly caring volunteer team picked up Lorna from the immigrant detention center. She had been detained for over two years, the entire time separated from her eight US citizen children, husband and grandbabies.
We spent a little bit of time together chatting at the dinner table when Oliver bought her some warm tamales for her to enjoy for dinner.
As she was eating she looked over at me and said that a few days before Christmas she was talking with one of her sons on the phone and he told her the whole family was together making tamales. The room was full of family, food and festivities. Her son also told her he had just found out his wife was pregnant! They were expecting a baby girl in a few months. I could tell by the look in her eyes she desperately wanted to be there celebrating with them.
The next thing she told me shook me to my soul.
She said, "A few days after I spoke with my son on the phone I got another call from my husband. He told me our son had died... a sudden heart attack. Nobody was expecting it. I didn't believe what they told me; I kept saying, 'No, no no.' The only reason I finally realized it was true was when they sent me his death certificate."
I didn't know what to say when I heard this story. She looked at me through eyes filled with tears and my eyes joined in her pain. We just sat there and cried. She showed me this quilt she knit for her son's baby girl that would be born soon.
Around us, other volunteers were hustling and bustling working with other guests to get them home, phone calls were being made, tickets were being purchased, plans to get them to the airport were underway. And for Lorna and me, it felt like we got sucked into a moment that stayed silent. I hoped with all my heart that Lorna felt welcomed in our home, eating our tamales, being part of our family if only for one night.
I am thankful for everyone who is part of the Casa de Paz family -- from the team of volunteers who picked up Lorna from detention, to the person who brought over the tamales, to the group who came and cleaned the guest bedrooms so she had a comfortable place to spend the night, to our friend Wayne who picked her up the following morning and brought her to the bus station so she could reunite with her family just in time for her son's funeral... the list goes on and on and on and on.
*Lorna's son died while she was in immigrant detention*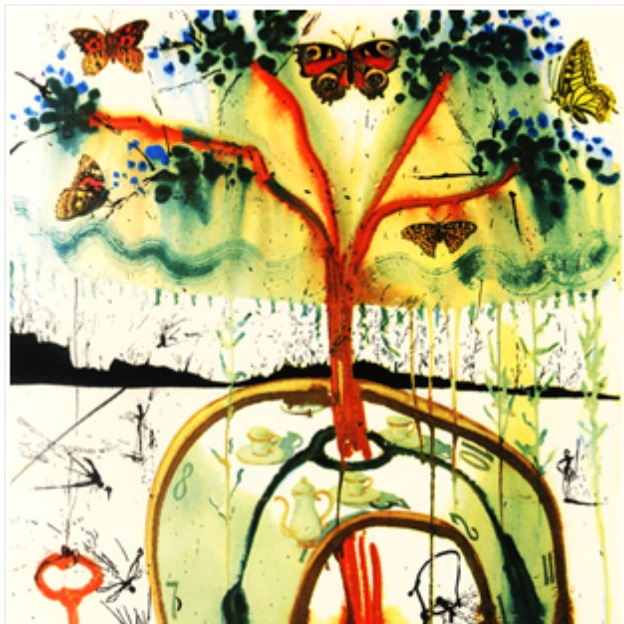 My writing is an act of reflection, a prayer for clarity. On a good day I can tap, tap, tap at the leaden confusion, fear, shame in my brain and body until it is hammered into something I can work with. A lesson, I hope, perhaps even gold. Photo: Image by Salvador Dali, Mad Tea Party, illustration for Alice in Wonderland. 1969 Edition.
Worth Keeping.
SK
I remember once, many times, working in a museum. Getting to document and witness, contemplate, without the crowds, beautiful works of art, old and new.
All art is bold. All artists must be.
I was astounded that these beautiful objects of adoration had earned their own right, to be kept safe, in a beautiful place, by people who were paid to do just that. To be cherished and honored for as long as humanly possible.
Humanity paid to work in beautiful silence. Kept to keep.
It was such contrast to the life I was leading then, crunch, run, panic, never enough...
Never good enough to keep.
I lived in a sort of museum then, but it did not belong to me, nor me to it.
It was created by a man who built it to keep himself.
If I wanted to be there, I had to prove my worth. The trick is, you can never prove your worth to someone who believes you are worthless.
Nothing without worth belongs in a museum.
I left that place, and am building a museum of my own.
We gather artifacts, of a life well-worn and loved.
Everyone who enters here is a treasure.
Worth keeping.
Laura Peniche is the current Project & Engagement Manager at Motus Theater. Born in Puebla, Mexico, she migrated to Denver, Colorado at age 13, where she has resided ever since. Earning an Associates of Applied Science Degree in Writing/Directing for Film & Television from the Colorado Film School, her documentaryfilm debut: "No One Shall Be Called Illegal" showcased at the 2011 Denver InternationalStarz Film Festival. In 2017, Laura was one of the Producers of the documentary film:"Five Dreamers", which aired on Rocky Mountain PBS on July of 2018 and is scheduledto air on National PBS in 2019. As an active community member with Together Colorado and the Colorado Immigrant Rights Coalition since 2016, Laura's dream is to further her education and continue telling stories that create a positive impact in the community.
Nechama Sammet Moring is an educator, activist and writer. With a background in midwifery and health equity research, Nechama is an abortionist and an aspiring science journalist with a book in progress about "off the grid" community health care. Her day job is grant writing and knowledge translation for non-profits and scientists, through her company Rebel Girl Research Communications (www.rgrcommunications). She blogs about nerdy research stuff at www.rebelgirlresearch.com and lives in Boston with her pit bull, Samira.
dec 15 whiteboys
Nechama F. Sammet Moring
The woke white men are talking Marxist theory and murder they will never commit, and they are not listening, not to each other, and certainly not to anyone else. They like the momentary glory of landing a punch, directed at no one, and they think no one understands them. I understand them. I understand them more than I want to, an understanding born of their almost comic predictability. But they cite page numbers and loud but ineffective explosions, and they tell me they're misunderstood marvels.
Lately there is always soup on my stove, or something in my oven, or both, and the heat in my apartment is unreliable, but I'm building a safe house. I don't call it that, because I don't want the men to take me seriously, or rather I don't want the men to take my efforts to keep us all safe as seriously as I do. They already underestimate me and over-depend on me, though I don't even let them in and they don't acknowledge me or my door, and at the end of the day, it's not going to be whiteboy revolutionaries I save.
I'm not here for whiteboy revolutionaries, but they always show up, always eat my soup and then ask if it's organic and vegan, if it was somehow made free of capitalism, beyond capitalism's global reach, as if somehow women and femmes and non-men had already fought and won the revolution while they were reading Marx, their old edition with all the dog-eared pages as their proof. And yes, that will be how it goes someday, we will have already fought and won the revolution while they were dog-earing the corners of tired pages of very tired books, but that is not where we are yet. Not just yet.
Right now, right here, though, I'm sautéing onions for another pot of lentil soup. I've been craving lentils since the baby was born, and I think I might be anemic. I soak beans, and I stay up late. I haven't read a book in a long time, but I can build effective bombs and effective strategy til morning breaks. The woke white men fall asleep early, tired from sitting, tired from talking, probably tired from the weight of being such misunderstood marvels. The woke white men are falling asleep, and are already sleeping. And that's when it starts. That's when the soup is ready to eat, and we eat silently, save for talk of food and joy.
We don't have to talk, because we already understand each other, mugs still warm against our hands, and so we build. We build and build and build. We build til morning breaks, when we rise to get the kids to school, leftover soup in their lunchboxes and revolution in their backpacks. Someday soon they will burn the school to the ground, and we will be their getaway drivers. We will drive inconspicuously and fast, and the bombs we build will be silent and true, and everything old and tired will be on fire, and then will be ashes, and we'll unlock the doors to my safe house. We'll tell stories and cook dinner and the heat in my apartment will be unpredictable, but we'll be safe and together, and our revolution will be the kids' laughter at the bottom of their soup bowls, and our shared, silent understanding as we get ready to do it again tomorrow. We'll get up the next day, feed the kids breakfast and pack their lunches and their backpacks, drop them off, ready to drive inconspicuously and fast towards a better world.
The whiteboy revolutionaries like the momentary glory of throwing punches, and they like being figureheads. That's what they're good for, and that's how we'll get away. When the feds come, because the feds will inevitably come, they will find a bunch of misunderstood marvels talking Marxist theory and murders they never committed, in all their glory, and they will talk and talk and talk. They'll cite page numbers, and they'll look fuckable and misunderstood in their mugshots, which other whiteboy revolutionaries will screenprint badly onto brand new shirts. They will live in that glory forever, and they'll keep talking, talking, talking. Other woke white men will talk about them, and I'll put on another pot of soup, measure out flour and sugar and salt for baking, ingredients that can also stop concrete from setting while the bread rises. They'll be hashtags for other men to cite along with the page numbers of their tired old books, but I'll be building another safe house. We'll be building another world. The woke white men will go to bed early, and we will build and build and build.
Nga Vuong-Sandoval is a proud Việtnamese, proud refugee, social justice advocate, humanitarian, and a cultural preservationist. She advocates for underrepresented and marginalized communities as a public speaker and social justice advocate on Colorado Refugee Speakers Bureau, a Board of Directors member for Lutheran Family Services Rocky Mountains, and an advisory member for the South Federal Boulevard Green Project/Little Sài GònBusiness District Redevelopment Project. Nga has spoken at the 2019 Womxn's March on Denver, 2018 Women's March on Denver, 2018 Families Belong Together Rally, and 2017 Colorado World Refugee Proclamation Day at the Colorado State Capitol.
A Name. MY Name.
Nga Vuong-Sandoval
Nga Vuong-Sandoval is a proud Việtnamese, proud refugee, social justice advocate, humanitarian, and a cultural preservationist. She advocates for underrepresented and marginalized communities as a public speaker and social justice advocate on Colorado Refugee Speakers Bureau, a Board of Directors member for Lutheran Family Services Rocky Mountains, and an advisory member for the South Federal Boulevard Green Project/Little Sài Gòn Business District Redevelopment Project. Nga has spoken at the 2019 Womxn's March on Denver, 2018 Women's March on Denver, 2018 Families Belong Together Rally, and 2017 Colorado World Refugee Proclamation Day at the Colorado State Capitol.
"I won't abbreviate my name, because I won't abbreviate my identity." - Nga Vuong-Sandoval.
What's in the name? Everything. Nga Vuong-Sandoval explains how her name identifies who she is and is a direct link to her heritage, her culture, and ancestry. She emphasizes that significance of maintaining our name and identity.
Laura Soto brings with her poetry 20 years experience working in advocacy for underrepresented groups. Born in Chihuahua, Mexico and raised bicultural in the U.S. Laura has engaged in community activism for social justice and for immigrant rights from a very young age to uplift the disparities found in her local community. Laura is currently Operations Manager for the Philanthropiece Foundation and a fierce advocate for Spanish-speaking communities serving as a translator, interpreter, facilitator, panelist, speaker and spoken word performer through her professional business Bridging Communication, LLC.
Coatlicue Takes Over
Laura Soto

Old patterns die hard,
they are your own beliefs
living deep within your heart.
Old habits, old ways,
old feelings, old delays;
pain that takes over your entire body
even to the tips of your fingers.
Self-abuse, self-hate,
old behavior that was imposed by trauma,
they all like to linger.
They like to hold on tight,
so tight they suffocate,
choking my every breath.
A grasp so tight it asphyxiates.
They keep me trapped in their dark ways,
covering me with murky cloudiness;
Strangled in dark days.
Depression doesn't just sink in, it stays.
It doesn't just hurt, it poisons your brain;
cannot think straight,
cannot decide,
cannot eat right,
cannot feel even just for a moment
that everything will be alright.
I am always somber,
anticipating where the pain will hit this time,
waiting in constant ponder;
cannot answer questions,
move or shower,
cannot decide, cold takes over.
Cold makes me her prisoner,
her grip as tight as ever,
keeps me in her embrace,
keeps me tired.
She has turned out
that which burned inside,
that which kept me alive:
my fire.
Makes my stiff bones ache,
my heart again breaks;
Makes me cry,
remembering the violence,
Makes me remember the impotence,
my heart again breaks.
It is not just the physically impairing pain
which strikes me down and takes over my body,
It is the realization that I am no longer free,
there are demons that now live within me.
The abuse I endured
from the authoritive protector,
my father figure,
who used his position of power
to violate my body, my spirit, my memories;
now commands my every hour
he who I wished so hard to disappear,
has transformed into my haunting demon.
But now he has no form,
now he is present everywhere,
not just at home,
he is present in every question of self-worth,
Always questioning:
Is love something you really deserve?
This nightmare that became reality
installed in me guilt, shame, uncertainty.
It nested in my subconscious,
as does every unbearable childhood memory.
As does every threatening reality,
every impossible fight a child is incapable of confronting.
Now turned into a powerful monster by the suppression
of my unheard cries for protection,
Fed by denial, strengthen by denial,
"it never happened".
This mighty hellion in my adult life
reappears in patterns of behavior,
Leads me to choose abusive partners,
exploiting employers, manipulative endeavors.
Promising I can be freed
if only I work hard enough,
if only I endure enough,
sacrifice enough, die enough;
swearing I will be given freedom only if deserving,
twists truths, deceitfully assuring.
Working the yearning of my heart against me,
throwing volatile random aches,
promising I might finally earn love;
for all these lies my heart again breaks.
But to fight nested demons,
I also have long nested deities!
Goddesses that have buried their power
in their daughters over the centuries.
Man-made demons have no chance
against ancient Goddess inheritance.
The demon who dared travel into my subconscious,
had no idea how deep were the dwellings of my caverns.
Was unaware the Goddess Coatlicue,
with her omnipotent powers,
this place had way before inhabited.
Was unaware the Goddess Coatlicue,
is the mother of all creation,
and of the underworld its ruling posseses.
Coatlicue was present from the beginning of time,
Coatlicue is the power that gave me life,
Coatlicue, the two headed serpent mother,
Resting in darkness, hides her coiled body;
Basilisk winding womb of a cave.
It is Coatlicue who dwells in my caverns.
Two heads that meet at opposite ends to create
One jaw through which she conceives life
One jaw through which she eats life.
When you dare dig deep
into this mestiza daughter,
it is Coatlicue who you encounter!
The two headed serpent creator Goddess,
mother of all celestial deities, and destructor.
It is to her that my internal struggle I offer.
It is with her that, when in darkness,
the serpent state I enter.
And as my loving Mother,
all the shame, guilt, short-comings and shadows
she devours.

Entrego a Coatlicue todo mi sufrir.
Quiero en ti morir, devorame para en ti revivir;
Para mis capas pesadas desmantelar,
Mis ojos cansados cerrar,
Mis estructuras rigidas desmoronar,
Mi mente manchada por el trauma limpiar,
Mi cuerpo cicatrizado por los golpes sanar,
Ayudame para mi piel humana mudar,
Y al mudar de esta piel dañada,
Nueva vida he de respirar.

It is Coatlicue who the pain invokes,
It is Coatlicue who the pain swallows,
It is Coatlicue who takes over,
I will go deep into her realm,
return to her dark womb,
shed my old skin and cast away my shadows.
It is Coatlicue who takes over,
I am renewed
as I am passed through her dark, moist,
slithering spiraling bowls.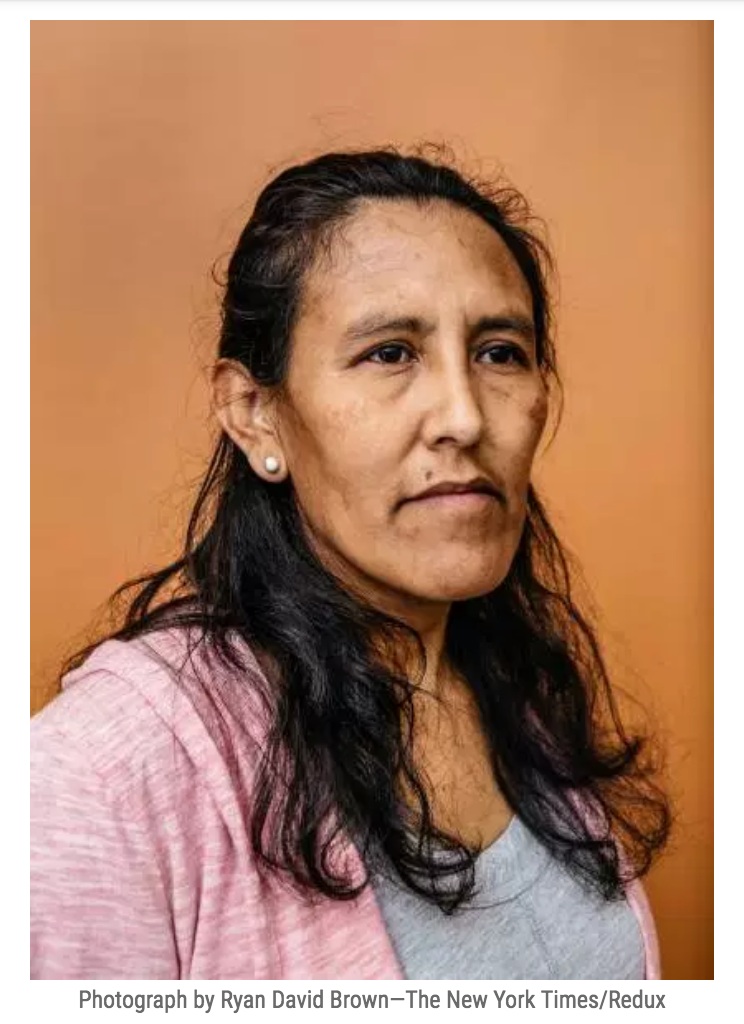 Jeanette Vizguerra has served as a labor, community and immigration activist for more than two decades in Colorado.
She is a mother of four whose fight to stay in this country has drawn national attention. In 2017 Vizguerra was named one of Time Magazine's Top 100 Most Influential People after entering sanctuary for 86 days to avoid deportation. Today, she is again living in sanctuary in a Denver church in an effort fight for her rights, her family and our community.
She created this video for this Anthology. We are deeply grateful.